Geotechnical Section
In near future, the R&D division will be able to carry out Slope stability, soft ground & landslide designs through a special geotechnical unit that is to be established.
Pavement Investigation
R&D Division is capable of carrying out all the necessary field investigation by its own well-experienced staff through its laboratories. This includes test pit investigation, Benkelman Beam Deflection survey &, etc. Also, the FWD surveying facility is available through the Planning Division, RDA
Not only that, the R&D Division is providing solutions to the road failures throughout Sri Lanka by undertaking the relevant investigations.
Pavement Designing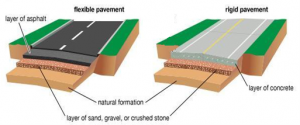 Research & Development Division is the main division that provides the pavement designs (Both flexible & Rigid) for the major roads in Sri Lanka.
Pavement design is the major component in road construction. Nearly one-third or one-half of the total cost of construction is related to pavement design, so careful consideration should be taken in the design of pavement. We are undertaking pavement designs for
New construction
Pavement rehabilitation works
Pavement Overlaying
Currently, we are in the process of implementing Mechanical – Empirical Pavement design guidelines to the road designing process.